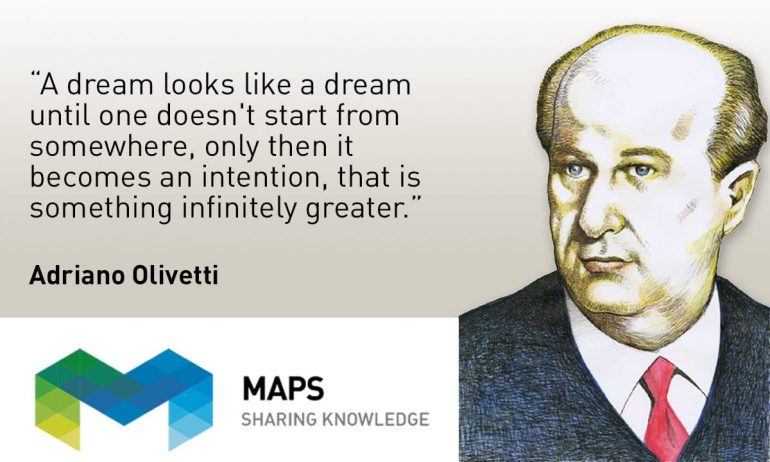 Maps Group: "dedications" as added value in a system of shared corporate values.
It is not easy for a company to talk about its own values. It risks sounding rhetorical, or self-referential. As part of the creation of its new and recently-inaugruated headquarters in Parma, Maps Group decided to let other voices and faces talk about the values that inspire the group, through the portraits, words and short biographies of men and women who have not only represented those values, but have embodied them in exemplary fashion their whole lives. The occasion was a series of "dedications" of the eight conference rooms in the headquarters which offer an itinerary that is symbolic but also tangible and fully visible to all, thanks to the display of a series of iconographic plaques*.
The plaques—which include a portrait of the individual, a quote and a short biography—have been hung in the rooms to pay homage to these great men and women, each exemplary in his or her own way, of Maps values.
First the driving force both inside and outside the group: putting people first, identifying opportunities and the means by which the individual is not only the lynchpin of technical and professional activities, but also important from a personal, experiential and relational standpoint.
Also selected as oustanding testimonials were Edgar Morin, whose "La Tête bien faite" is still an exemplary model in the search for meaning for Man, Ada Lovelace, a rare example of intellectual and technical emancipation, Tiziano Terzani, untiring explorer of the human odyssey, and Loris Malaguzzi, whose excellence as a teacher is reflected in his approach to education and learning. Each chosen because of an extraordinary spirit of initiative and breadth of vision, both present and future.
Maps Group and the two dedications: eight leaders that represent values both shared and sharable.
Click To Tweet
Secondly, the expressive and communicational attention of the dedications shifted to the values of control and acting consciously, with the goal of being able to explore and share knowledge.
Here the leaders cited were Alan Turing, an extraordinary forerunner in artificial intelligence, and Italo Calvino, a visionary interpreter of human knowledge, both men capable of combining various languages and modes of expression into a single lucid and pro-active theme.
And, finally, the company's own North Star was reflected in perhaps the most important values for governance: ethics. Courage and professionalism, a pioneering spirit and ability to conduct oneself and others towards a goal that is anything but utopian, can be seen in Giorgio Ambrosoli, a rare example of courage and civil conscience, together with Giorgio Ambrosoli to whom the main meeting room in the headquarters is dedicated—in recognition of his unique strategic ability as a captain of industry—whose life was dedicated to the search, experimentation and implementation of an ethical and effective way of working "together".
A guide capable of acting as a polar star in a universe of values whose most profound significance must never be lost sight of.
---
* The portraits were done by Gerardo Lunatici, a Tuscan-Emilian painter and illustrator.